Here we go guys…. During the weekly production meeting this week we realized something crazy and amazing. We have to invent our own workflow and chain of communication. Producing a web series is one beast, but trying also coordinating with ? other producers about there departments at the same time. So Catherine and I have started to create a "Workflow Chart" to help organize all our departments by episode per week. Our hope is that this will keep us from falling behind or forgetting something important.
Since there are so many moving parts to coordinate we wanted to get a jump start on planing for them. Once we launch we will be constantly filming episodes, candid videos, having live events, and pumping out social media that if we neglect one area or double book our actors we could really screw ourselves.
In one week we could be prepping for Heartbeat #3, writing Heartbeat# 8, Filming Heartbeat #4, Posting Heartbeat #2, and having a live event.
Here is a screen grab of the chart we have been working on. It's a work in progress but hopefully it will save us headache's later.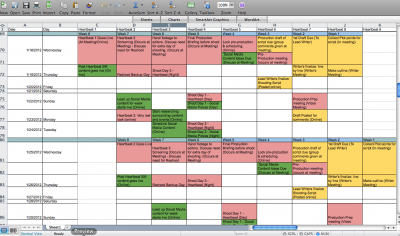 ~Erica